Essentra Components will be participating in ELAsia 2019 from 21 to 24 June at Hall 3, No. B-105, Bangalore International Exhibition Centre, Bangalore, India.
Visitors from the Electronics, Electrical and Lighting industry will be have the opportunity to view our extensive range of products covering Locks, Hinges, Handles, Castors,Feet, PCB Spacers & support, Cable Ties, Clips, Mount & Accessories, Gaskets and many more.Our vital and complementary solutions, and pro-active customer service, can give you the edge in producing excellence in your final product, and getting it to market fast. And if we don't have what you need within our standard range, we'll make it for you!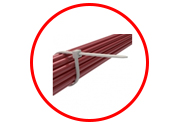 Cable ties and Cable management


You may want to download our catalogue for complete range of our  offer. Samples are FREE and you will have the options to collect the samples at the ELAsia 2019 and have a face to face discussion with our consultants on how we can better support your applications.
About Essentra Components
 Essentra Components is a leading international manufacturer and distributor of essential component parts and solutions. Manufacturing for over 65 years, Essentra Components has grown to suit a global market from beginnings as Moss Plastics in 1955 to growth through acquisition of companies such as Skiffy, Richco and most recently, Micro Plastics. This has allowed us to manufacture and supply product ranges and help meet delivery requirements for customers across the world.
Further information on Essentra Components products, please call +91 (0) 80 4545 3676 or email [email protected]